Almost Near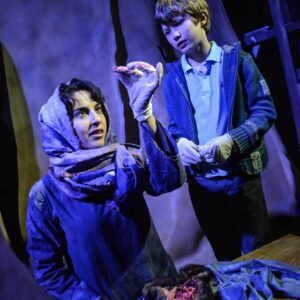 Almost Near by Pamela Carter

 
Finborough Theatre, 2014
"So you're stuck under a rock and the only way to escape is to cut your own hand off…would you do it? would you though? in real life?"
Afghanistan. Amongst the debris of a bomb-attack blast, four young British soldiers try to pick up the pieces.
The UK. A couple worry about the strange behaviour of their nine year old son and his imaginary friend as their marriage crumbles around them.
Separated by 3000 miles, but they are all in it together…
Exploring themes of war, trauma, kinship and empathy, Almost Near is a stunning new play about wanting to be a part of something, and what it means to be alive.
Cast:
Andrew Gilbert, Mariam Haque, Amy Loughton, Tom McCall, Kate Miles, Oliver Mott, Adam Philps, Michael Sheldon
Creative:
Director: Audrey Sheffield
Design: Fly Davis
Lighting: Peter Small
Sound: Max Pappenheim
Photos by Robert Day