"Audrey Sheffield is one of the more lucid, clear-thinking directors of our industry. She has a compassionate presence and a forensic eye on the details of behaviour, acquired from her own rigorous training and exploratory practice. Her work on stage is dynamic, moving and alive."
Ian Rickson 
I'm an award-winning UK and international freelance director with a passion for new work, committed to making theatre that is rigorous, imaginatively ambitious and emotionally truthful.
I've been extensively involved in new writing, inspired by dramaturgical development, how a script evolves, and by what makes plays work and why. I've relished the creative, collaborative relationships that I've built, and I want to continue exploring and making theatre that is honest – driven by rigorous questioning and attention to detail – with a desire to create a layered, rich and vivid world, alongside a strong and integrated visual and aural aesthetic – often experimental and ambitious in form.
I always want to push my practice further, to make work that really matters – that makes us question, think, breathe a little differently while we're watching it. Theatre that makes us feel more deeply.
I initially studied Psychology and Anthropology, followed by an MSc in Medical Anthropology, and have always been fascinated by people, inspired by unknown worlds, and am consistently drawn to the human in the story – often intrigued by the darker sides of our minds and lives. I trained as a theatre director for 3 years with the late Russian director and teacher – Sam Kogan – in London and Moscow. I then continued learning, and developing my practice at the Young Vic, as Trainee Resident Director at the King's Head, and through invited workshops at the National Theatre Studio, the RSC and with Peter Brook.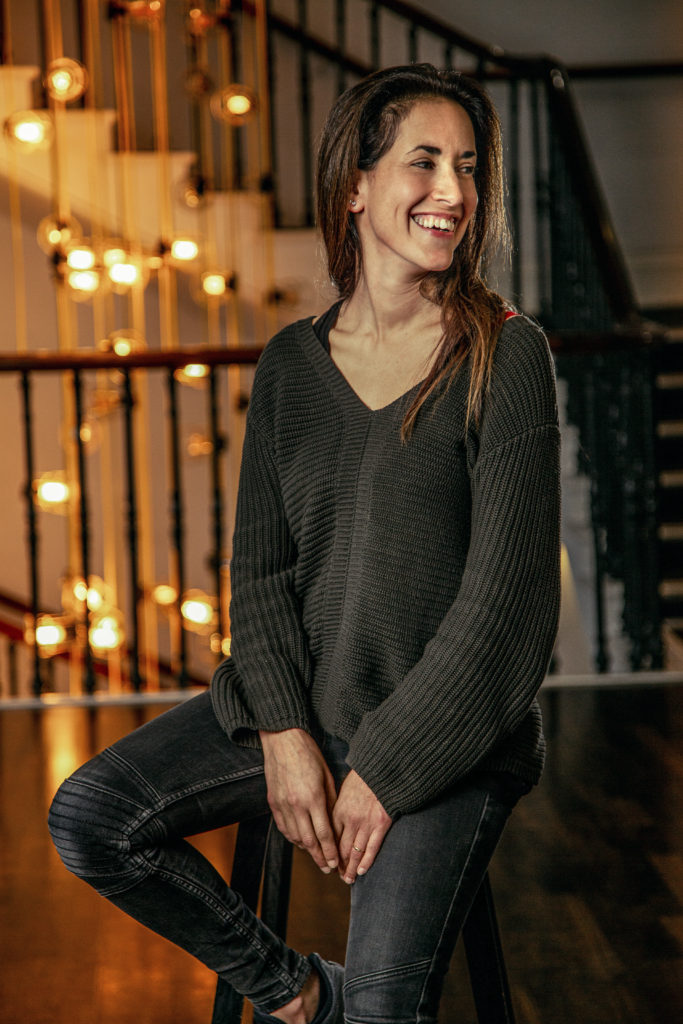 Passionate about theatre-making with young people and within the community, I've led numerous Creative Learning and Participation projects for the National Theatre, Old Vic, Almeida, RSC, Kiln and Young Vic. And I've recently worked as a Guest Director at drama schools including RADA, LAMDA, Mountview, Arts Ed, RCSSD, BOVTS and NFTS.
I also work as an Acting Coach and can offer support with any stages and elements of a process – whether it's collaborating and exploring aspects with a whole company or team, or working on a more one-to-one basis with you as individual artist to facilitate and enable you to make your fullest, most honest and exciting work, and anything in between of course too.a programme of live music, dance and panel discussions exploring theatrical traditions from around the world
Inspired by all things writing and dramaturgy, I co-facilitated the NT New Views London hub for 5 years – a brilliant Playwriting Program for Young People at the National Theatre, and was part of the reading panel for the Women's Prize for Playwriting. I've previously read for the Bruntwood Prize, National Theatre, Hampstead Theatre, the Print Room, Theatre503 and was one of the judges for the Adrian Pagan Playwriting Prize. I've also loved working as one of the Connections Directors for the past few years, and later as Associate Director with so many incredible young companies on all the amazing new plays that have been commissioned by the National Theatre as part of their extraordinary NT Connections Festival.
My work as an Associate / Resident Director has included productions with Ian Rickson, Patrick Marber, Tarell Alvin McCraney, Carrie Cracknell, Rupert Goold, Clare Lizzimore, Mark Ravenhill and Elizabeth LeCompte – at the Old Vic, National Theatre, RSC, Hampstead Theatre and in the West End.
Some of my directing credits include – THE DARK ROOM, a multi-award-winning new play by acclaimed Australian playwright, Angela Betzien, at Theatre503, Chinonyerem Odimba's WE TOO ARE GIANTS for Kiln Theatre, and APOLOGIA by Alexi Kaye Campbell at the English Theatre Frankfurt.
I was selected Best Director Finalist for the Off-West End Awards 2017/2018 (The Dark Room, Theatre503), nominated for The Arts Foundation Awards 2018, and was thrilled to be selected as an Old Vic 12 Director 2019 – developing Charlie Josephine's new play, SKIN AND BLISTER, through R&D and with a staged reading at the Old Vic. I also feel very lucky to be a recipient of an MGCfutures bursary 2020, which is supporting me to further develop my practice and work with Sarah Connors – Papatango Prize 2020 Finalist – on her excellent new play, PUSHING ON OPEN DOORS.
I was thrilled to be invited to direct the brilliant and beautiful THE EFFECT by Lucy Prebble and to be back at ETF again, and had a joyful time working with Hannah Khalil on her new play, SLEEPWALKING for Hampstead Downstairs, as well as being part of the amazing TWENTY TWENTY team – the Young Vic's extraordinary year-long project – working on a new film, Tapestry, with writer Nessah Muthy and Certitude London. I directed Nick Payne's CONSTELLATIONS for BOVTS, and worked with several new writers on their first plays for the Kiln's YOUNG WRITERS PROGRAMME.
More recent highlights include directing S. Ansky's seminal Yiddish play THE DYBBUK for SIX ARTISTS IN SEARCH OF A PLAY at the Almeida Theatre, alongside curating a programme of live music, dance and panel discussions exploring theatrical traditions from around the world that have often been overlooked by British theatre.
And I loved working on PERSPECTIVE the New Views winning new play by Mackenzie Wellfare that I directed for the National Theatre, followed by Jen Silverman's brave and beautiful THE MOORS at LAMDA and the searingly brilliant CYPRUS AVENUE by David Ireland for RADA.
I've also started working as a Game Performance Director with SIDE UK, which I'm hugely enjoying.
I'm currently working on JEWS. IN THEIR OWN WORDS. by Jonathan Freedland, which I'm co-directing with Vicky Featherstone at the Royal Court in the autumn 2022, and I'm also developing several other new theatre projects for later this year and beyond.
I'm always reading and excited to find potential next plays and projects, and am keen to forge new creative collaborations, so please feel free to get in touch anytime.