The Dark Room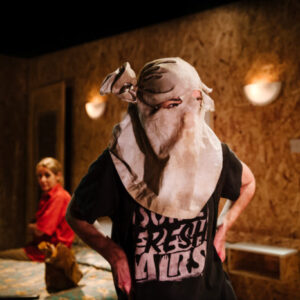 The Dark Room by Angela Betzien
Theatre503, Autumn 2017
Winner Best Australian New Play, Sydney Theatre Awards
UK Premier – 
2 Off West End Award – OFFIE – Nominations: 
Best Director Finalist (Audrey Sheffield) and Best Lighting Design (Will Monks)

Paperbark Theatre and Thinking Aloud present the UK premiere of Angela Betzien's astonishing new play, THE DARK ROOM .
"That night I cut this.
It's a heart.
It's forever.
It's for you."
Deep in the night.
In a lonely motel room.
Somewhere in central Australia.
Six lost souls collide.
Isolated in dark and dangerous territory.
Haunted by the same tragic crime.
The Dark Room exposes the startling mistreatment of the most vulnerable in our society, at the hands of those most meant to protect them. This intricately layered psychological thriller, reminds us that no mater how far apart we are in distance and time, we are all responsible for each other's lives.
Angela Betzien is a multi-award-winning playwright. Her work has been produced widely across Australia and internationally, to critical acclaim. She has been Playwright On Attachment at the National Theatre Studio, with The Dark Room being her UK premiere.
From the playwright, "In Australia, we have a long and dark history of neglecting, abusing and forgetting the most vulnerable in our communities, and it is this disturbing reality that formed one of the starting points for the play. I hope London audiences will find The Dark Room a haunting and illuminating theatrical experience."
Cast:
Paul Adeyefa, Katy Brittain, Alasdair Craig, Tamlyn Henderson, Fiona Skinner, Annabel Smith
Creative:
Director: Audrey Sheffield
Design: Jemima Robinson
Movement Director: Annie-Lunnette Deakin-Foster
Lighting Design: Will Monks
Sound Design: Jon McLeod
Casting Consultant: Marc Frankum
Producer: Shaelee Rooke
Photos by Alex Brenner