Moony's Kid Don't Cry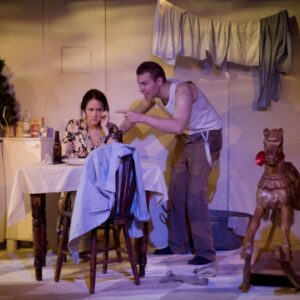 Moony's Kid Don't Cry and The Case of the Crushed Petunias
by Tennessee Williams
King's Head, 2011
A double bill of Tennessee Williams short plays – Moony's Kid Don't Cry, and The Case of the Crushed Petunias.
Moony is a star-gazer. Once a wood-cutter in the northern woods of Canada,  he finds himself in a large industrial American city with his wife, Jane, and their child. Restless and unable to sleep in the early hours, the couple find themselves worlds apart and facing decisions they've never had to make before.
Dorothy Simple leads a fairytale-like life in her small-town Simple Notions store. But a visit from a mysterious stranger that coincides with all her petunias being mysteriously trampled one day, introduces a fantastical twist, as the Young Man challenges her outlook and perceptions of the reality she knew, presenting her with the most frightening and exciting choice of her life. 
Cast:
Bragi Arnason, Jed Aukin, Katy Bartrop, Claire Randall, Unnar Unnarsson
Creative:
Director: Audrey Sheffield
Design: Emma Bailey
Photos by Sebastian Lister